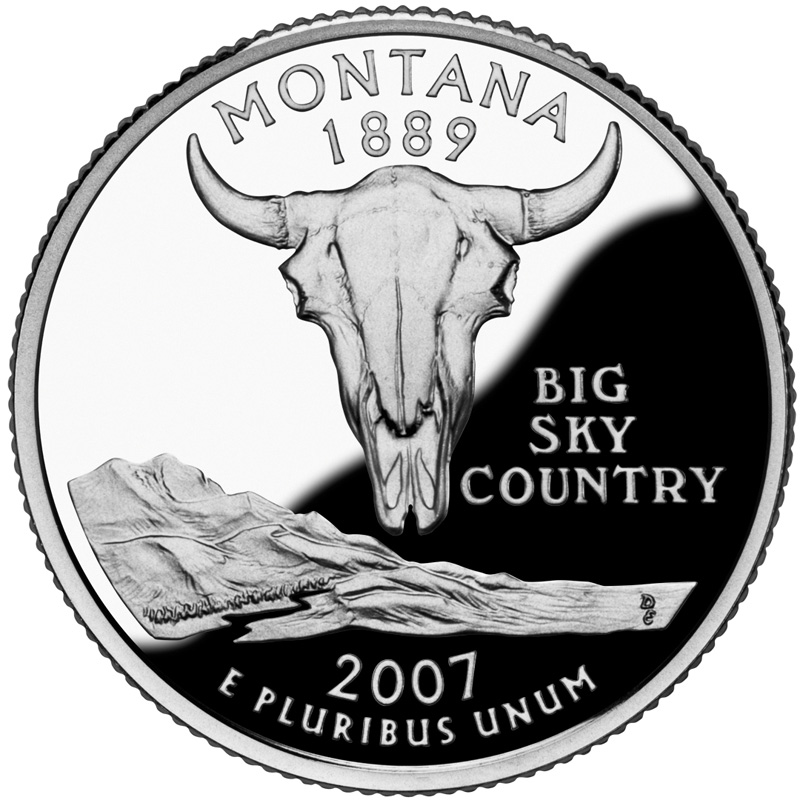 The first commemorative quarter-dollar coin released in 2007 honors Montana and is the 41st coin in the United States Mint's 50 State Quarters® Program. Montana, nicknamed "Big Sky Country," was admitted into the Union on November 8, 1889, becoming our nation's 41st state. The reverse of Montana's quarter features a bison skull depicted above the diverse Montana landscape with the inscription "Big Sky Country." The coin also bears the inscriptions "Montana" and "1889."
"Big Sky Country"
The bison skull is a powerful symbol, sacred to many of Montana's American Indian tribes. This symbol can be seen across the state on schools, businesses, and license plates and reflects the rich native tradition of Montana, which was once home to large tribes such as the Crow and the Northern Cheyenne. After a visit from Lewis and Clark, Montana became a destination first for fur trappers and later for gold prospectors following the discovery of gold in the 1860s. Cattle ranchers also made their way west to Montana. This rapid growth in population led to boomtowns. The nickname "Big Sky Country" reminds residents of Montana's open lands and pioneering way.
Choosing the Design
The recommended design was chosen based on feedback from the Montana Quarter Design Selection Commission, which was created by Governor Brian Schweitzer, and a subsequent public vote. United States Mint sculptor-engravers and artists participating in the United States Mint's Artistic Infusion Program rendered the "Bison Skull" design and three others submitted to Governor Schweitzer. The designs were based on narratives submitted by Montana residents.
The Department of the Treasury approved the design on June 22, 2006. The other three designs considered were "Bull Elk," featuring a bull elk posed majestically on a rugged rock formation; "State Outline," showing mountains tapering to the eastern Montana plains; and "Big Sky with River," prominently featuring Montana's big sky with a river emerging from a mountain range.
The 50 State Quarter Program

Signed into law in 1997, the 50 States Commemorative Coin Program Act has become the most successful numismatic program in American history, with roughly half of the U.S. population collecting the coins, either in a casual manner or as a serious pursuit. The program produces five different reverse designs each year for ten years—each representing a different state—the order of which is determined by the order states were admitted to the Union. Design concepts are submitted to the Secretary of the Treasury by state governors for final approval. The obverse of each quarter is a slight redesign of the quarter's previous design. The cost to manufacture a quarter is about 5 cents, providing a profit of approximately 20 cents per coin. So far, the federal government has made a profit of $4.6 billion from collectors taking the coins out of circulation. In 2009, the U.S. Mint launched a separate program issuing quarters commemorating the District of Columbia and various U.S. territories.
PROFILE
SPECIFICATIONS
Release Date:
January 29, 2007
Denomination:
Quarter Dollar
Design:
Bison skull
Mountains
Missouri River
Composition:
Copper Nickel alloy
91.67% Cu
8.33% Ni
Captions:
"Big Sky Country"
Weight:
2.000 oz (5.670 g)
Designer:
Don Everhart
Diameter:
0.955 in (24.26 mm)
Engraver:
Don Everhart
Thickness:
0.07 in (1.75 mm)
Mintage:
Denver Mint
  - 256,240,000
Philadelphia Mint
  - 257,000,000
Total
  -513,240,000
Edge:
Reeded
 
No. of Reeds:
119
Data Source: The U.S. Mint