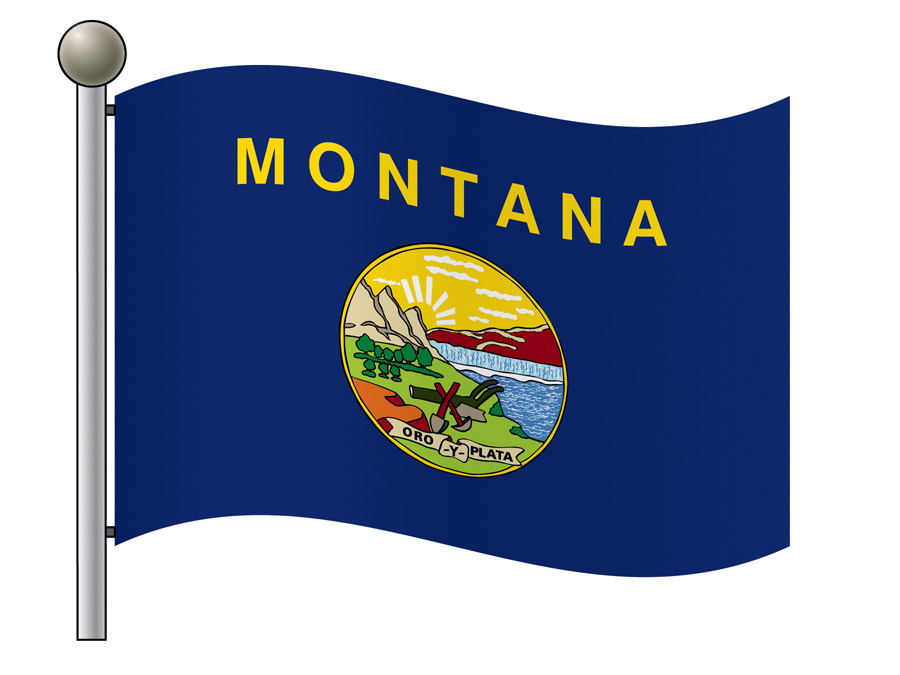 State Day
November 8
Status
Unofficial
Date of Admission to United States
November 8, 1889
Ranking in State Admission
41st
Former Designations
Louisiana Territory
Missouri Territory
Nebraska Territory
Dakota Territory
Oregon Territory
Washington Territory
Idaho Territory
Montana Territory
History
The United States acquired much of what is present-day Montana during the Louisiana Purchase of 1803. Cattle and sheep ranching were major industries that began in the mid-1850s, grew to prominence in the 1860s and were a major reason for land claims that rivaled only one other industry: mining. Rich in mineral resources, the area attracted many prospectors during the early 1860s. Gold Rush fever led to population explosions and frenetic growth around mining towns.
On May 26, 1864, the Montana Territory was formed. Montana retained its territorial status until 1889. One major reason for the delay of statehood was a continuing struggle among the various Indian nations, white settlers from the east, and the U.S. military. Even with the continuing conflict, the lure of gold and available ranch land attracted more settlers and miners, and by 1890 the areas population had grown to 143,000. In 1884, when it appeared that the population growth would continue, the territorial government requested statehood. Finally on November 8, 1889, Montana became the 41st state.
Motto
Oro y plata ("Gold and Silver")
Montana's state motto, in Spanish, refers to the rich deposits of gold and silver found in the mountains of the state.
Nicknames
"The Treasure State," "Big Sky Country," "The Mountain State," "The Bonanza State,"  "The Stubtoe State," "The Last Best Place"
Two of the most well-known nicknames for Montana are "The Treasure State," which is attributed to the state's rich mineral resources, and "Big Sky Country," which was popularized by the Montana State Highway Department in the 1960s and appears on the Montana state quarter.
Montana has been referred to by a variety of geographical nicknames. These include "The Mountain State," which refers to the giant Rocky Mountain range of the Continental Divide that crosses the state; "Land of Shining Mountains," which also refers to the Rocky Mountains and the rich mineral deposits that can be found in them; "The Headwaters State," which highlights the fact that the headwaters of the Missouri and Columbia rivers are found in the Montana Mountains; "The Stubtoe State," also refers to the mountains and rough terrain; "The Bonanza State," which relates to Montana's rich mining strikes in gold and silver, and "The Last Best Place," which refers to the state's unspoiled terrain.